Buildings must have cladding in order to provide both durability and attractiveness, whether they are commercial or residential. While cladding has the power to completely alter a building's look, its main function is to shield the underlying structure from damage. It increases the building's lifetime by preventing potentially dangerous exterior influences, such as bad weather, from inflicting structural damage. Plastic Facade Cladding Better Than Other Materials?
Although conventional materials were the only ones utilized to build cladding panels in the past, there is now a wide range of options accessible to maximize outcomes. In order to provide a comprehensive answer to the question "what are the different types of cladding?" We have created a guide that covers the top nine systems.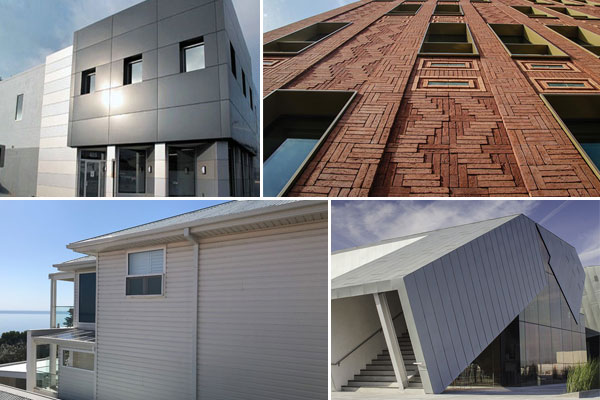 What Are The Different Cladding Types? 
The installation of cladding can be made relatively simple and easy by working with experienced fitters. Cladding can be installed in as little as a day, depending on the size of the building and the overall difficulty of the task. Systems are very low maintenance once installed, making them a very reliable and affordable choice for property owners. In the odd event that your panels sustain any damage, such as dents and scratches from normal wear and tear, cladding repairs may be made promptly with little impact on business operations.
Wood cladding
One of the most aesthetically beautiful cladding materials is still wood. The result of timber cladding may be completely customized to get the ornamental finish you desire. It is often put in long, narrow boards that can be fitted horizontally, vertically, or diagonally. Since wood is an organic material, each panel will be distinct and have a distinctive grain pattern that cannot be duplicated, making your structure stand out from the competition.
If you want to start reducing your carbon footprint, choosing timber cladding is the best option. There will be reduced reliance on central heating since hardwood lumber, in particular, is a great natural insulator and has high levels of heat retention. Timber is the most ecologically beneficial sort of cladding since it is completely recyclable, renewable, and sustainable.
Stone Cladding 
A facade cladding stone look outside finish is more frequently a feature in residential buildings than in commercial ones, in contrast to other cladding styles. Facade cladding stone looks outside is ideal for giving homes a typical "country home" atmosphere and an exquisite, opulent appearance. Although a genuine fassadenverkleidung steinoptik außen may be put, it has a high price tag, thus many people choose its mimicked counterparts. Simulated stone is excellent for reducing expenses without sacrificing durability and visual appeal.
Your property is protected against leaks from the outside thanks to the non-porous qualities of the stone, which are unable to absorb any kind of liquid. This works well in areas that receive a lot of heavy rain because of how helpful it is. The stone will also reduce the danger of dampness, mold, and mildew by preventing the accumulation of moisture.
Facade cladding stone look outside is relatively simple to keep clean and may be done at home. Visit Persian Tile for additional details on how to maintain stone cladding.
Plastic facade cladding
For those seeking a modern, contemporary material that comes in a variety of colors, vinyl cladding is perfect. As one of the least expensive kunststoff fassadenverkleidung materials that are also known for its energy efficiency, vinyl may help you save money both now and in the future. Even more, insulation may be added to panels to create a temperature-regulating blanket that covers your property, keeping it cool in the summer and warm in the winter.
plastic facade cladding is far lighter than its competitors, allowing panels to be entirely flexible when covering a structure. Colors may be changed to compliment various architectural features and produce an eye-catching look; this is great for imitating brand colors. plastic facade cladding spraying is an option if you ever want to change the color of your vinyl panels.
A weatherboard cladding fourth
Many people make the mistake of assuming that weatherboard and timber systems are equivalent when examining the various types of cladding, but this is untrue. While wood is used to make weatherboard cladding, reconstituted wood has been used in place of real hardwood. Reconstituted refers to wood that has been specifically crafted to resemble a certain species and is repeatable. The wood may be used again and will always maintain its original appearance. Weatherboard, as opposed to real wood, may be stained or painted to match the color of your choosing. If you want to profit from timber cladding but want greater design freedom, this is the best option.
The only drawback of weatherboard cladding is that it needs more upkeep than any other type of cladding. Unfortunately, the weatherboard is prone to rot and deterioration, therefore frequent protection is required. IPI Independent has put up a helpful manual on weatherboard cladding maintenance to prevent degradation.
Glass Cladding 
The Louvre in Paris and the Gherkin in London are two iconic structures that use glass cladding for their recognizable exteriors. Glass cladding, which is frequently utilized in commercial buildings, is quite successful in instantly giving a space a modern aspect that stands out from the competition.
Because glass is lightweight, it can be readily molded to meet any building's contours and may be built in a variety of forms for a distinctive look. Glass cladding just has to be cleaned at least twice a year because you won't have to worry about the material fading or degrading. It will not exhibit any evidence of having an adverse effect on the environment and is more than capable of withstanding the unpredictable British weather.
Since glass cladding maximizes the quantity of natural light entering the office, many company owners choose to install it. Natural illumination has been shown to improve focus and increase workplace morale in addition to significantly lowering energy use. Office Space claims that people who work in spaces with natural illumination during the day report being 15% more productive.
Brick Facade
If you want to obtain a classic look akin to stone, brick cladding is wonderful. However, try to add a contemporary pattern. Your cladding installation may be changed to create a specific pattern or design using various colored bricks. Cladding bricks are made from lightweight materials and come in a range of colors, unlike normal bricks, which are made specifically to create walls.
It is crucial to be able to ensure the security and durability of a structure, and this is where brick cladding excels. One of the most durable materials, brick may offer complete protection from any elements to which it may be subjected. Brick cladding won't rust, break, or display symptoms of pollution damage.
The use of fiber cement cladding
A composite material called fiber cement may be used for both internal and exterior cladding. By definition, a composite material is any substance that has been produced utilizing two or more constituent parts to form a new material with distinct properties. Cement, sand, filler, and cellulose, an organic substance present in plant cell walls, are components used to make fiber cement.
Due to its guaranteed lifespan and defense against factors like fire, bad weather, strong impact, and insects, fiber cement cladding continues to gain popularity. Due to its lightweight properties, it can be installed quickly and, once in place, won't change even in the presence of extreme heat or wetness.
Metal Cladding 
Metal cladding is the best choice for industrial buildings since it is incredibly durable even though it cannot produce the eye-catching, distinctive aesthetics that other materials can. Steel and aluminum are the two most often used metal cladding materials, and each has advantages and disadvantages of its own.
The fact that metal cladding is non-combustible is one of the biggest advantages of using it on a commercial structure. Despite the fact that it doesn't necessarily imply that the structure is free from fire laws, it does offer property owners an additional measure of safety against the possibility of a fire. When panels approach the end of their useful lives, they may readily be repurposed for another purpose and won't wind up in a landfill because metal cladding is completely recyclable.
Foam cladding used externally
The maximum amount of insulation among all system types is provided by external foam cladding, sometimes referred to as External Insulated Finish System (EIFS). The foam used to create panels has a reinforced core and is developed for that purpose. After that, a fiberglass mesh is applied to the foam, giving the cladding more strength and impact resistance. Panels come in a variety of thicknesses depending on the amount of insulation you need, and all of them may be custom-sized to meet any building's contours. External foam cladding is effective at keeping a building warm in the winter and cool in the summer by blocking the warm air from entering the building. Consequently, this will contribute to a more energy-efficient building and lower energy costs.
Cladding Can Transform Your Building!
Many people are unsure of the many types of cladding that are available, and the subject is still very wide. You may enjoy the various advantages of your selected cladding materials by reading our post and spending time further researching the path that is best suited to your needs. Each material has benefits and desirable qualities of its own, and each may be customized to meet your property's demands and aesthetic preferences.